Newcross Healthcare.
17th May 2022
Newcross Healthcare partners with Sponge to deliver virtual onboarding for 45,000 nurses and care workers.
Background.
Since its launch over three years ago, the Sponge-created 'Virtual Shift' has radically improved the onboarding experience for Newcross Healthcare nurses and care workers. Mark Story, Head of Learning Innovation at Newcross Healthcare, discusses the challenges Newcross was facing, the objectives it needed to meet, and the results that were generated.
---
Challenges.
Prior to working with Sponge, Newcross was experiencing many of the challenges typical of providers within the care sector.
Onboarding was a major issue, with the organisation onboarding around 120 care workers every week across the UK.
A thorough onboarding process is essential within the care sector, but for Newcross the process was unnecessarily tedious, isolated, and lonely.
New starters had to visit one of 63 onboarding locations, watch four hours of training DVDs, and complete a paper-based follow up quiz.
The next activity, a 'shadow shift' with a more experienced employee, was fraught with inconsistencies. New staff either weren't learning enough or were picking up bad habits.
In short, the process was inconsistent and not scalable. Care is a people-focused sector; however, Newcross' previous onboarding process did not put people at its centre.
Objectives.
One major objective was scalability. The solution would have to onboard the steady stream of new recruits and meet the growing needs of the care sector.
Newcross also needed a solution that took a people-centred approach – one that met the onboarding needs of the employees, and reflected day-to-day life within the care sector.
They wanted the learning to be immersive and authentic.
Finally, Newcross wanted to create consistency across its onboarding process.

Solution.
Sponge worked with Newcross to design and develop the 'Virtual Shift'. Located within the immersive 3D 'Newcross World', this consists of a series of online virtual shifts that care workers can undertake.
These shifts are populated with characters, whose backgrounds are taken from real-life. As employees progress through the training, they undertake a series of scenarios that reflect the life of a care worker.
Through a combination of immersive technology, authentic storytelling and real-life characters, the new recruits can demonstrate their clinical and behavioural judgement.
Results.
The Virtual Shift has been completed over 45,000 times since its launch over three years ago.
It has had a huge impact on making the onboarding process more fun, streamlined, and consistent. Sponge's solution has replaced many hours of DVDs and paper-based quizzes.
Complaints, although low to begin with, have been reduced by a further 10%, demonstrating the impact that immersive, authentic learning has on behavioural change.
The training is currently in its fourth iteration, with further developments on the horizon.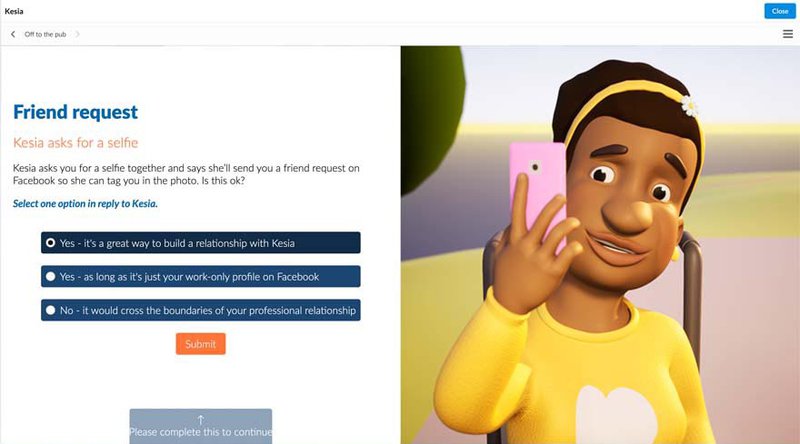 To find out more about how Sponge can develop and deploy learning solutions to meet bespoke organisational and sector needs, please complete the form below.
---