Google helps users to choose mobile-friendly sites
21st November 2014
The number of people browsing the web on mobile devices is ever-increasing. If you haven't optimised your site for these users yet, this could impact your traffic levels more significantly than ever thanks to Google's latest search modification.
We've been emphasising the need for a responsive website for a while now, largely due to the number of users who prefer the convenience of browsing the internet on their mobile devices. Websites that cater to mobile users will soon see even more benefits, as Google's newest label will promote these sites as 'mobile friendly' in search results.
Mobile user experience
Broadly speaking, mobile users tend to search while they are on the move and are away from home or office computers. So their needs tend to be fairly simple, they want to find the sites and the content they are searching for quickly and easily. Entering search terms into Google and then clicking on sites which aren't optimised for mobile devices can make this journey difficult, time-consuming and really frustrating. Small text, tiny links and poor display are a major niggle for mobile users and, more often than not, causes them to exit such sites.
In an attempt to prevent these instances, Google have officially announced the launch of 'mobile-friendly' labels. This indicator will be shown in search results and will tell mobile users which sites are optimised for their phone, allowing users to make a decision about sites that will offer the best online experience.
An example of these labels in action: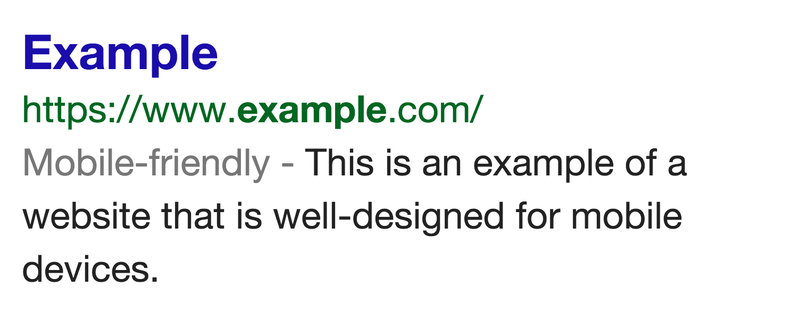 Website pages that will benefit from this label upgrade must meet the following criteria
Avoids software that isn't common on mobile devices (e.g. Flash, which can be found in vector graphics, games and animations.)
Uses text that is readable without the need to zoom.
Adjusts the content to the screen size so that users don't need to scroll horizontally or zoom.
Links must be spaced far enough apart so that the desired link can be easily tapped.
These labels will be rolling out over the next few weeks. If you have any doubt about your site, Google has provided their 'Mobile Friendly Test' tool and additional in-depth advice can be found within Google's Webmaster Mobile Guide.
This new feature reflects Google's dedication towards providing the best online experience, in order to unite their users with the content they are searching for as quickly as possible.
Become mobile-friendly
For business owners, your customers can now make a decision as to whether to click-through to your website even earlier. You may have enticing page descriptions, but if a user sees that your site does not support their mobile device they are less likely to make the visit. Mobile users account for over 30% of traffic, so it's never been a more important time to meet their needs. If you need another reason to make your site appealing to mobile users: Google are also said to be experimenting with a new algorithm that will boost the SERP (search engine results page) position of sites that have earned their 'mobile friendly' label. 
If you think your site is losing out on traffic from mobile users, get in touch with a member of our team to discuss the most effective way to make your site mobile friendly.
---
Enjoy what you're reading? Then you'll love our blog