Making compliance training engaging - Inside Learning…
10th April 2014
Inside Learning Technologies magazine featured a compliance training project that Sponge created for Tesco.
David Ward, Regulatory, Ethics & Compliance Director at Tesco talks about the graphic design of the project:
"Getting the right visual concept was really impotant, we wanted the look and feel to be encouraging, non-threatening and appealing. We also wanted it to be significantly different from previous courses staff may have completed; and to create a unique brand identity for the training. We're really impressed with the illustrative approach taken with this course and think it's extremely effective for what we're looking to achieve."
Read more insights from David and hear the full story of the Learning Leap course in the article.
Click on the image below to go to the digital edition of the magazine and read the full feature.
Sponge compliance training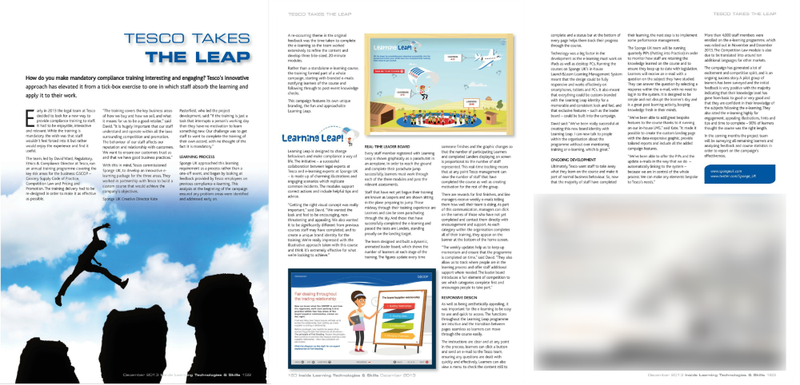 The article focuses on how to make compliance training more engaging for employees by adding elements of gamification and creating a campaign around the course.
Some of the elements of compliance training that are featured in the article include:
Understanding the learning process
Real-time leaderboards
Responsive design
Ongoing development
Discover how Sponge made Tesco's elearning as engaging as possible whilst delivering the compliance message that was essential to the project. 
The project was hosted on Sponge's Launch & Learn Learning management System (LMS) which allowed it to have custom features like a real-time leaderboard and easy follow up e-mails and reminders for the employees who haven't completed the training.
If you'd like to learn more about how Sponge can help create your next compliance training module get in touch using the buttons below.