New features and improvements in Adapt framework V2.0
4th August 2015
Responsive elearning design framework Adapt has launched its second major version this week, bringing with it new features and several improvements.
Sponge are one of the founding members of the open source project and we're currently using it to produce responsive HTML5 elearning for a variety of clients.
We'll take you through some of the new features and improvements of Adapt Framework V2.0.
New features
Accessibility improvements
By creating a suitable theme and adding the relevant code you can now create courses which comply with the Web Accessibility Initiative (WAI) guidelines to the AA level. You can read a detailed description of all the accessibility features in this pdf.
Right to left language support
Arabic, Hebrew and other right to left languages are now supported in Adapt, allowing your course to be localised to many more territories than before.
Question banks
Adapt now allows you to set up banks of questions for your assessments to pull from, you can specify how many questions to display as well as setting it to randomise the order of questions.
New results functionality
You can now set up scoring bands with different feedback for each level, allowing you to better tailor the comments to the performance of your learner.
It's now possible to add multiple assessment sections in the same course with a results page which gives the learner a score in points or as a percentage based on all the assessments.
Soft reset
Sometimes you will want a learner to be able to reset a page and start again from scratch, but you don't want the tracking information to be lost when this happens.
Soft reset allows you to accomplish this, giving the learner a chance to revise important information without having to repeat any of the modules.
New core plugins
Bookmarking
When you're using a SCORM compatible LMS to track your Adapt course you can now use the Bookmarking plugin to let your learners resume the course where they left off after a break.
When a learner returns to the course they are given the option to resume from the last point they reached, or to start fresh.
Trickle
Using Trickle allows you to control progression through the content of a course. You can have the next block of content revealed automatically once a section is completed, or require that a button be pressed before moving on.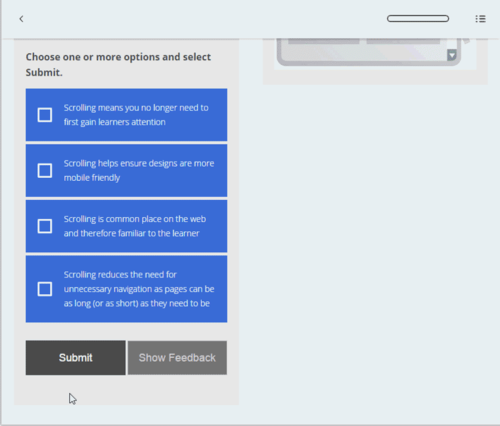 A continue button can be permanently available or you can choose to have it only become visible once the learner has completed the relevant task.
Improvements
Theme
The default Vanilla theme has been overhauled for the new release, making it easier and quicker for developers to adjust the theme appropriately for the course.
Less.js is used as the CSS pre-processor to allow experienced developers to quickly create good looking, effective themes for Adapt projects. Anyone new to theming will benefit from more descriptive variables, making it easy to find the elements you want to change in the Vanilla theme.
Performance
All browsers will see an overall improvement in performance from the new framework. By tweaking various elements of the core code and third party libraries there are particular benefits for Internet Explorer 8 and 9 but all browsers will see an improvement.
Question functionality
Your learners can now review feedback for questions that they have already answered as well as being able to see their selection as well as the correct answer.
Randomisation of the order of questions has also been added and a feature that allows a tick or cross to be displayed against a whole section as well as the individual answers.
What's next for Adapt?
Work continues on development of the Adapt Authoring Tool which allows non-technical users to create responsive elearning courses without needing to do any coding.
There's a strong push to make it more user friendly to install and to build on the success of the Framework by bringing Adapt to a whole new audience.
Find out more about the release on the Adapt community site, and for more information on Adapt and how we're using it to create responsive elearning get in touch.
Author: Alan Bourne, Head of Development, Sponge
---
---