Bringing Your Charity Learning Strategy to Life
Charities and not-for-profits - your work in service of people and planet is an inspiration to us and we're proud to partner with you. Our goal is to provide impactful charity learning strategy that supports your people to work with care and resilience, no-matter the challenges they face.
Charities are experiencing increased demand. With change being the only constant across the world, and with ongoing pockets of instability, charitable services that support the most vulnerable are on the increase.
We provide charity learning strategy and digital learning solutions for not-for-profits that empower employees, give knowledge to members and increase the efficacy and compliance of your organisation. We're the trusted charity learning partners to international organisations from the Samaritans to The United Nations.
---






---
Digital learning strategy to safeguard adults and children
Domestically and overseas, the safeguarding of vulnerable adults and children is paramount. Charities have a particularly critical role because their work may directly support these individuals.
We've worked with Save The Children, Samaritans and others to create bespoke charity learning strategies that tackle safeguarding risks. Through the use of digital learning, empathy videos, scenarios and explanatory animations, we take on tough issues with sensitivity to engage learners and motivate behaviour.
---
---
---
Compliance learning strategy and ready-to-go courses
Your people and resources are under increased demand, and we know that timely and cost-efficient training solutions that deliver real results are highly desirable to your charity or NFP.
We offer both bespoke and ready-to-go compliance elearning, available as responsive mobile courses or microlearning from our sister company Skillpill. You can also boost the engagement of your charity learning with our off-the-shelf games in Cybersecurity, Anti-Bribery and GDPR.
If you need a platform to launch, track and reach people around the world, check out Spark Learning Management System. Spark caters for extended enterprise, making it easy to train your internal employees and external contractors and volunteers.
Enabling humanitarian workers
Humanitarian workers in charities and not-for-profit organisations face challenging work environments including the complexities of operating legally in conflict zones, maintaining logistics, and protecting civilians.
Our digital learning successfully equips humanitarian workers with knowledge of inter-country operations, international humanitarian law and supports the effective onboarding of critical front-line staff.
We also translate and deploy charity learning content offline to ensure information is accessible for everyone – even those in the hardest to reach regions.
---
---
Charity learning strategies for your members and beyond
Is your primary audience outside your organisation? Many charities have a remit to serve the population and we can deliver learning content straight to your members.
For example, we've worked with Diabetes UK on a series of empathy videos that aim to improve quality of life when living with diabetes.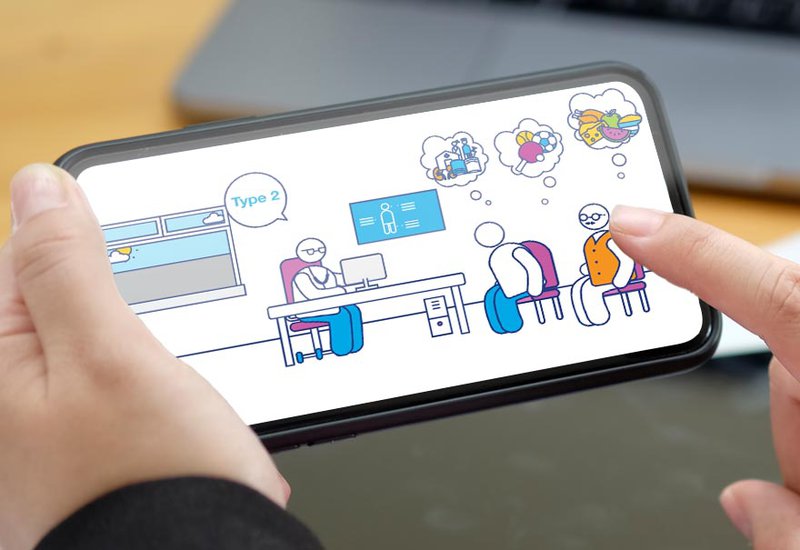 We create digital charity learning and resources such as apps, infographics, videos and animations, elearning, and other quick-to-launch content to keep your membership in the know.
Why choose Sponge for your charity learning strategy?
Empathy. We're sensitive to the importance or the work you do and champion your cause. We care that your learners receive the best experience possible.
Expertise. We bring creativity, technology and learning science to solve the toughest performance challenges faced by the charity and NFP sector – and we've done it for many years.
Value. We recognise the demands on your resources and offer both bespoke and ready-to-go solutions to meet any budget.
Partnership. Our aim is to build an enduring partnership with you. The more we get to know you, the better we become at anticipating needs and streamlining processes for more powerful results.
---
---
You may also be interested in...
---
---