Display Screen Equipment - off the shelf elearning courses.
The main risks of working with Display Screen Equipment (DSE) are musculoskeletal disorders (MSDs), visual fatigue and mental stress, all of which are caused by sitting in front of a computer for a long time and a poorly designed workstation.
Display screen at work regulations are designed to help prevent possible consequences.
Under UK health and safety regulations, an employer has a responsibility to provide the right equipment and training for employees, which includes display screen equipment assessment. Employers are responsible for creating a safe working environment and providing information and instructions relating to Display Screen Equipment to their employees.
At Sponge, we have created a Display Screen Equipment Elearning Course to help users understand the safe use of DSE equipment, as part of desk health and safety. Although the course is designed primarily for a desktop user, any user can complete this online training course, as advice on e.g. good posture is applicable for any DSE user. This elearning course only provides awareness education in desk assessment, and face-to-face training would be needed to carry this forward practically in your organisation.
Fully online and interactive, available 24/7 on any device and with no time limits, thanks to our state-of-the-art LMS, with an assessment at the end. A certificate can be downloaded upon the successful completion of the elearning Module. This elearning course has been assured by RoSPA Qualifications.
Regulations: We cover the key information surrounding Display Screen Equipment, extracted from the following government legislation and trading standard authorities: Health and Safety Display Screen Equipment Regulations 1992 and associated guidance document L26.
---
---
Course outline.
Who is responsible?
The risks of DSE
Preventing MSD's
Good posture vs bad posture
Visual fatigue
Workstation
Cleanliness
Assessment
Learning outcomes.
Understand the importance of safe DSE usage in the workplace
Understand the responsibilities of themselves and their employer
Understand the systems that are needed in order to comply with DSE training
View all of our off the shelf Health and Safety courses.
---
This course has been assured by ROSPA, a leading name in health and safety and nationally recognised awarding organisation.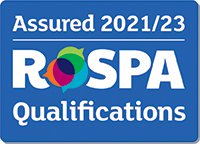 ---
---
---