Fire Safety Warden - off the shelf elearning courses.
Employers are required by law to appoint Fire Wardens to assist with the evacuation, contact the emergency services and use fire extinguishers in case of a fire.
Fire Wardens in the workplace hold special duties and responsibilities in case of a fire. Your designated Fire Warden must be aware of these duties and responsibilities, such as promoting fire safety in the workplace and prepare for a fire emergency. They also need to know how the fire spreads and what the countermeasures that they need to undertake are.
At Sponge, we have created the Fire Warden eLearning Course that enables the user to understand their roles and responsibilities as a Fire Warden. The course is also suitable for fire marshals, line managers, supervisors and safety representatives in low-risk environments. As a pre-requisite to this training, the user must complete the Fire Safety training, which has a special focus on fire extinguishers and their use in different situations.
Fully online and interactive, available 24/7 on any device and with no time limits, thanks to our state-of-the-art LMS. Complete with an assessment at the end, a certificate can be downloaded upon successful completion of the eLearning Module. This elearning course has been assured by RoSPA Qualifications.
Regulations: The Fire Safety – Warden eLearning module will explain the key duties of the Fire Warden covering key information surrounding The Regulatory Reform (Fire Safety) Order 2005 which covers general fire safety in England and Wales and in Scotland; requirements on general fire safety are covered in Part 3 of the Fire (Scotland) Act 2005, supported by the Fire Safety (Scotland) Regulations 2006.
---

---
Course outline.
Fire Warden Responsibilities / The proactive daily duties of a fire warden
Fire risk assessments / Understanding the way a fire can spread
How to prevent a fire
How to check a fire extinguisher
Fire safety evacuation plan
Fire drills awareness and recap
Taking action in an evacuation
Assessment
Learning outcomes.
Understand the daily duties they should undertake
Be able to complete the risk assessment at their place of work
Know how a fire spreads and how to prevent a fire
Understand the role of fire safety signs
Become familiar with the process involved in checking a fire extinguisher
Know the procedures involved in a fire safety evacuation plan
Recognise the importance of fire drills and how to implement them in the workplace
View all of our off the shelf Health and Safety courses.
---
This course has been assured by ROSPA, a leading name in health and safety and nationally recognised awarding organisation.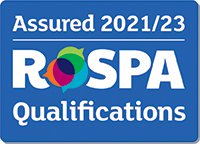 ---
---
---