Food Safety Level 2 - off the shelf elearning courses.
There are more than half a million cases of food poisoning a year in the UK – just from known bugs, and in the most extreme cases, food poisoning can cause death. The store that sold contaminated food can be fined, taken to court or sued due to non-compliance.
How to hygienically store, prepare, cook and work with food to avoid contamination of food and food poisoning is crucial for everyone's understanding of their responsibilities towards food safety. It is important that your staff know those practices in order to be compliant with the laws and regulations and to reduce the risks.
Sponge's Food Safety Elearning Course Level 2 is a follow-up of the notions provided in Food Safety Level 1 Elearning Course and generates an extended knowledge of food safety regulations as well as good habits when working with food.
Fully online and interactive, available 24/7 on any device, with no time limits, thanks to Spark, our state-of-the-art LMS. It has an assessment at the end of the module and a certificate can be downloaded upon successful completion of the course. This elearning course has been assured by RoSPA Qualifications.
Regulations: This online training course educates your food handling staff, covering key information surrounding food safety laws, including the Food Safety Act (1990; as amended), General Food Law Regulation (EC) 178/2002 & 852/2004, and Food Hygiene Regulations (2013).
---

---
Course outline.
What is food safety, hygiene and food-borne illness
Food hazards and contamination
Personal hygiene and handwashing
Food storage, preparation, cooking and service
Cleaning, waste and pests
HACCP systems
Food inspection
Learning outcomes.
Understand the importance of working with food in a hygienic and safe manner
Recognise the consequences of poor food hygiene and safety
Understand how food can become contaminated with hazards
Describe how to control hazards and prevent contamination, particularly at the points of preparation, cooking, service and storage
Understand how and why a HACCP based food safety management system should be applied
View all of our off the shelf Retail courses.
---
This course has been assured by ROSPA, a leading name in health and safety and nationally recognised awarding organisation.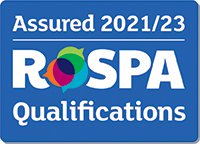 ---
---
---